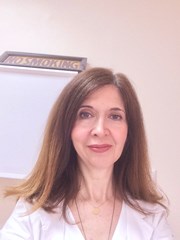 Angeliki Florou
MD, MSc
Respiratory Department and Smoking Cessation Clinic, Evgenidion Hospital, Athens
Angeliki Florou, MD, MSc, studied Medicine at the University of Crete where she graduated in 1998 from the Medical School. She completed her residency in 2006 at the 5th Respiratory Clinic of "Sotiria" General Hospital, where she specialized in Pulmonology. During 2006-2007 she was trained as Clinical Fellow at the Cystic Fibrosis Department, in the University Hospital of Southampton UK. In 2015 she completed also the postgraduate course in "Lung Cancer: Current Clinical and Basic Science Approach" and obtained her MSc degree from the Medical School of the University of Athens.
Since 2007 she has been working as a physician at the Respiratory Department and Smoking Cessation Clinic of the Evgenidion Hospital. She also maintains her private practice since 2008.
She is a member of the Tobacco Control Group at the Hellenic Thoracic Society (HTS) and a speaker at the Smoking Cessation Seminars of HTS.
She has conducted research and published on smoking cessation, asthma, COPD, and lung cancer. She also teaches at post graduate courses of the Medical School at the University of Athens.
Share articles :