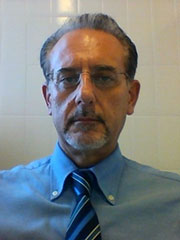 Ignatios Ikonomidis
Associate Professor in Cardiology
2nd Cardiology Department, Attikon Hospital, National and Kapodistrian University of Athens
Dr Ignatios Ikonomidis is Associate Professor in Cardiology in the 2nd Cardiology Department, Attikon Hospital, of the National and Kapodistrian University of Athens, Greece. He is the director of the Vascular Laboratory and Preventive Cardiology Department of the 2nd Cardiology Department and Head of the Echocardiography Laboratory. He works in the field of non-invasive cardiovascular imaging. He has a national and worldwide reputation and is regarded as one of the leading experts in the field echocardiography. As a result he is a permanent grader of the accreditation examination in cardiac ultrasound for European Association of Cardiovascular Imaging Certification and a fellow of the European Society of Cardiology. He has recently being elected a member of the nucleus of the ESC WG of Peripheral Circulation for the period 2014-2016. He has a particular interest on vascular imaging and investigated the effects of vascular function on cardiac function especially after therapeutic interventions.
He is member of several national, European and international associations including the nucleus of the WG of Peripheral Circulation of the ESC.
He has published over 171 original papers with over 3000 citations (h-index 28) and contributed in several medical textbooks. He has been awarded with more than 33 prizes for his research projects from Greek and European medical societies. He has given several invited talks at international meetings and has been invited to chair sessions at scientific meetings. He has also been active in both organizing and teaching in courses and symposia. He is associate editor of prestigious journals (Medicine, BMC Cardiovascular disorders, World J Cardiology etc) and acts as a regular reviewer of research papers for high impact international journals (Lancet, Circulation, JACC, EHJ, etc).
Share articles :