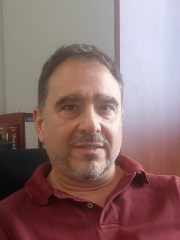 Stavros Topouzis
B.Pharm., Ph.D., Associate Professor of Pharmacology and Toxicology
Lab. of Molecular Pharmacology, Dept. of Pharmacy, University of Patras, Greece
Stavros Topouzis, B.Pharm. (AUTH, Thessaloniki), Ph.D. in Cell and Molecular Pharmacology (Strasbourg, France) is currently Associate Professor of Pharmacology and Toxicology, Laboratory of Molecular Pharmacology, Department of Pharmacy, University of Patras, Greece.
His research interests include discovery, characterization and preclinical evaluation of therapeutic targets in fibro-proliferative, and degenerative diseases (keywords: vascular, inflammation, cancer, adipose).
He has 17-year work experience (1990-2006) in USA Academia (Medical College of Georgia [GA], Baylor College of Medicine, [TX]) and in the USA Biopharmaceutical Industry (MetaMorphix [MD], Zymogenetics [WA]).
29 publications. SCOPUS H index: 18. Total citations number: 1670. Inventor in 5 awarded US patents.
Has successfully submitted, coordinated (PI) and participated (co-investigator) in EU and Greek grants including Karatheodori (2009-12), Synergasia (2009-14), Thalis (2012-15), REGPOT (2012-15).
4 key recent publications:
Spathis, et al., (2017) Nurr1:RXRα heterodimer activation as monotherapy for Parkinson's disease Proc Natl Acad Sci USA 114(15):3999-4004
Umaru et al., (2015) KATP channel activation mediates angiogenic responses in vivo and in vitro J Pharmacol Exp Ther, 354:79-87
Glynos et al., (2015) Guanylyl cyclase activation reverses resistive breathing-induced lung injury and inflammation. Am J Resp Cell Mol Biol, 52(6):762-71
Papapetropoulos et al., (2015) Extending the translational potential of targeting nitric oxide/cGMP-regulated pathways in the cardiovascular system. Br J Pharmacol, 172(6):1397-414
Share articles :