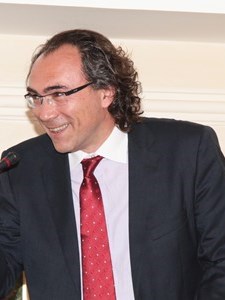 Dimitri Richter
MD, FESC, FAHA
Head of Cardiac Dept, Euroclinic Hospital, Athens
Dimitri Richter, MD, FESC, FAHA (born 06-12-1966) is Head of the Cardiac Department, Euroclinic Hospital, Athens, Greece since 2002. He is Specialist in Lipids and Hypertension treatment, Coronary Artery Disease Prevention and Treatment.
Current and former positions
President of Hellenic Lipidology Society 2013-2017
President of IMETHA (Institute of thrombosis research) 2018-20
Member of the board of Hellenic Heart Foundation since 2009
Vice-president of Hellenic College of Metabolic diseases since 2011
President WG epidemiology and Prevention – Hellenic Heart Society 2008-9
Editor in chief of "Heart and Vessels", the official publication of the Hellenic Heart Foundation
President of the Council of Clinical Practice of ESC 2018-20
Fellow ESC since 2005
Fellow AHA since 2006
He was an invited speaker at national and international congresses more than 1000 times, author of 6 chapters in cardiology books, 250 abstracts in national and international congresses.
Abstract reviewer ESC Annual Congress 2006-19
Reviewer in various peer-review national and international cardiology journals
70 papers in Hellenic Heart Journals, 50 papers in international peer-reviewed journals with an Impact Factor of > 400
Co-author of ESC guidelines on: CVD prevention in clinical practice (2016) and revascularization guidelines (2014 and 2018)
Research fellow at St' George's University, London, UK (Prof. McKenna) 1996 with a research grant of the Hellenic Heart Foundation
Research Fellow of the ESC 1999, in Warwick University (UK)
Share articles :